Sports
Twins, Marlins Nearing Trade Involving Arraez, Lopez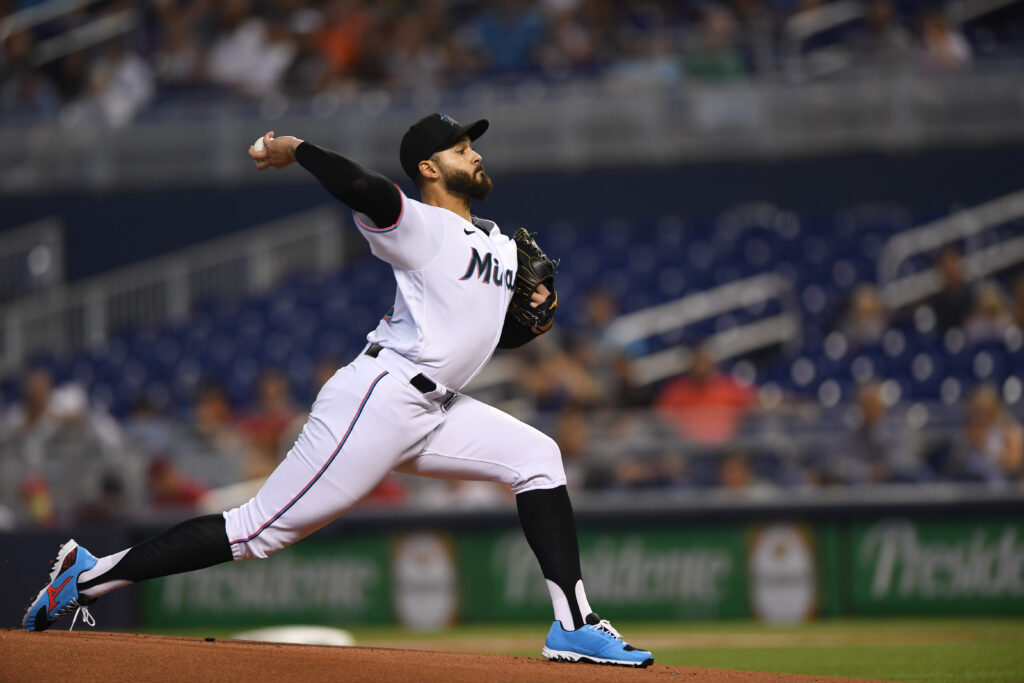 2:09pm: Outfielder Byron Chourio is the third player headed to Minnesota, tweets Mish. Baseball America tabs him 29th in Miami's system.
1:57pm: Infield prospect Jose Salas is also headed to Minnesota, reports Craig Mish of SportsGrid and the Miami Herald. He currently ranks fourth among Miami prospects at Baseball America and ranked second and fifth, respectively, on last summer's rankings from FanGraphs and MLB.com.
1:50pm: The Twins and Marlins are in agreement on a trade sending infielder Luis Arraez to Miami and right-hander Pablo Lopez to Minnesota, reports ESPN's Jeff Passan. Ken Rosenthal and Dan Hayes of The Athletic, who first said the deal was progressing, report that it is not a one-for-one swap and will involve additional players. Jon Heyman of the New York Post tweets that the Twins will acquire two prospects from Miami in addition to Lopez.
The core of the trade, for immediate purposes, will see the Twins swap out three years of Arraez, the reigning American League batting champion, for two seasons of Lopez, who'll immediately be an upgrade to their rotation. The 26-year-old Lopez has come into his own as a quality big league starter over the past three seasons, pitching to a 3.52 ERA with a 25% strikeout rate, a 7% walk rate and a 47.4% ground-ball rate in 340 innings.
Lopez has dealt with some injury issues in his career, thrice landing on the injured list due to shoulder strains. The most recent of those three injuries came in the summer of 2021 and wiped out more than two months of Lopez's season, but he was injury-free in 2022 when pitching to a career-high 180 innings over the life of 32 starts. Last year's performance netted Lopez a still eminently affordable $5.45MM salary. He'll be due one more raise in arbitration in the 2023-24 offseason before reaching free agency following the 2024 campaign — barring an extension, of course.
The newly acquired Lopez will step into a Twins rotation that also includes Sonny Gray, Joe Ryan and Tyler Mahle. Though it was easy to wonder whether Lopez could push Kenta Maeda into a bullpen role after he missed the entire 2022 season on the heels of internal brace surgery on his right elbow in Sept. 2021, The Athletic's Dan Hayes tweets that Maeda will remain a starter.
The likeliest odd man out of conventional five-man rotation is 27-year-old Bailey Ober, but the towering righty has pitched to a sharp 3.82 ERA in 31 starts to begin his big league career — including a 3.21 mark in 56 innings last season. (Ober missed more than three months due to a severe groin strain.) Alternatively, the Twins could look to deploy a six-man rotation that would help them manage Maeda's workload and hopefully lead to better health among a starting staff that was generally hampered by injury throughout the 2022 season.
On the other side of the swap, the Marlins will get a left-handed bat to help balance out a heavily right-handed lineup. Arraez brings to Miami perhaps the most impeccable bat-to-ball skills in Major League Baseball, having fanned in just 8.3% of his plate appearances since debuting as a 22-year-old back in 2019. He doesn't walk at an especially high clip, but Arraez's mark of 8.7% is still higher than both his strikeout rate and this past season's league-average 8.2% walk rate.
Arraez, 26 in April, hit .316/.375/.420 with a career-high eight home runs in 2022 and is a lifetime .314/.374/.410 hitter in the Major Leagues. His contact skills are second to none and will likely always allow him to hit for a high average, but the rest of his game is rather limited. Arraez is lacking in power, evidenced by a career .096 ISO (slugging minus batting average), and his average sprint speed is below average, per Statcast.
While he debuted as a second baseman, defensive struggles have left Arraez as something of a position-less nomad. He's bounced between second base, first base, third base and left field, delivering lackluster defensive grades at each of those spots other than first base. That could well be his new position in Miami, given the presence of Jazz Chisholm Jr. at second base and Jean Segura at third base. If that's indeed the case, 2022 All-Star Garrett Cooper would likely slide into a DH role — if he's not traded himself, given his status as a pending free agent after the season — thus sliding Jorge Soler back into the outfield.
Like Lopez, Arraez has some worrying injury issues on his resume. A torn ACL during his prospect days torched his 2017 season, and he's been on the injured list three times since Opening Day 2020 due to knee troubles as well. Arraez also spent a week on the 7-day concussion IL in 2021 and missed nearly three weeks of that season due to a shoulder strain.
Arraez is arbitration-eligible for the second time this offseason and, as a Super Two player, still has two years of arbitration remaining beyond the current campaign. He and the Twins couldn't come to terms on an agreement prior to last week's deadline to exchange arbitration figures; the Twins filed at a $5MM mark, while Arraez's camp countered with a $6.1MM submission. Now that he's with a new team, it's possible Arraez could agree to a one-year deal somewhere between those points, or perhaps even discuss a lengthier pact. If not, his subsequent arbitration raises will take his salary north of $10MM by his final year of club control, in 2025.
The prospects in the deal are both long-term plays for the Twins, making them somewhat curious secondary pieces for a team that's clearly bidding for immediate contention in the wake of their stunning deal to re-sign Carlos Correa. That said, recent trades for Mahle, Gray and others have thinned out the Twins' system in considerable fashion, so backfilling with some youthful talent helps straddle the line of building for both the short- and long-term.
Salas is particularly well regarded, originally signing for a $2.8MM bonus and currently ranking fourth in Miami's system at Baseball America. He's a shortstop for the time being, though BA's scouting report suggests a move to third base is possible, depending on the extent to which his still-lean frame grows. The switch-hitting Salas batted .250/.339/.384 against vastly older competition in 2022, splitting the year between Class-A and Class-A Advanced despite only turning 19 this past April.
Salas connected on nine homers and swiped 33 bases in 109 games. Scouting reports on Salas tout his work ethic, his feel for contact and the potential for at least average power. He'll immediately become one of the Twins' top overall prospects, but he won't add any value to their 2023 club (aside from perhaps giving them more flexibility when it comes to negotiating additional trades).
Chourio is even younger, having just signed as an amateur out of Venezuela one year and five days ago. Despite playing the season at just 17 years old, the switch-hitting outfielder took the Dominican Summer League by storm, raking at a .344/.429/.410 clip with a homer, nine doubles, 19 steals and nearly as many walks (25) as strikeouts (27) in 217 plate appearances.
Chourio won't even turn 18 until May, so even wildly optimistic projections would have him three years away from being a legitimate big league possibility, and it's quite likely that he's even further off than that. Still, there's plenty to like about him despite the lack of proximity to the Majors. In addition to his eye-catching pro debut, Baseball America's Ben Badler touted Chourio's physical projection, strong throwing arm, center field instincts and balanced swing when reviewing the Marlins' international signing class last year.
More to come.